Projectors with speakers are an ideal way to share pictures, videos, songs, and more with a group of people in your home. They have the ability to beam the screen onto a wall or ceiling and offer good sound quality when compared to regular TV at the same price. Along with their quality, they are also very compact and portable making them perfect for vacations, camping trips, and college dorm rooms.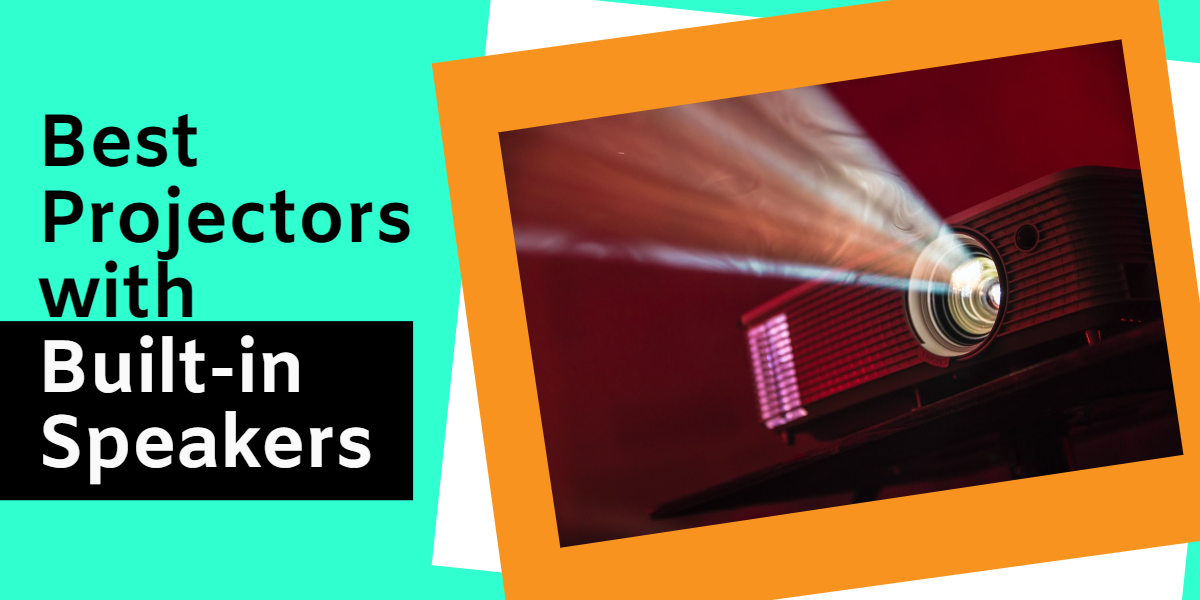 Many dedicated home theatre projectors will not have a built-in speaker option. This is because they're typically designed for the sole purpose of a dedicated home theatre setup. When you decide you want a speaker option for general-purpose usage, things can get tricky.
There are a plethora of options to choose from and it can be overwhelming. The specifications do not reveal the decibels that they can produce, instead, they mention the speaker wattage. Here's a simple guideline that will help you decide which is the best option for you based on approximation.
| Speaker Wattage | Audio Experience |
| --- | --- |
| < 5W | Poor sound quality. You may have to sit close to the projector to be able to hear anything. |
| > 5W to 10W | Average sound quality. Fine for regular use and with decent quality. |
| > 10W to 20W | Good sound quality. They may not blow you, but they sound audibly better. |
| > 20W to 40W | Very Good sound quality. Better stereo effects with good bass |
| > 40W | Best sound quality |
One thing you should note here is that the higher the speaker wattage, the more expensive the projector would be. So you could say that, in this aspect, you get what you pay for.
So, if you are exclusively searching for a projector for home theatre, you should not limit yourself to the built-in speaker option. Get a good projector (with or without a built-in speaker) having high contrast ratio and HDR, plug in an external sound system to get the optimal experience. This way you can get best of the both worlds by choosing an affordable projector with good picture quality with your favorite sound system.
Since you are here to find the best projector with a built-in speaker, let's see a comparison table of the top models that can be found in the market.
| Projector | Speaker | Resolution | Contrast Ratio | Lumens | Price |
| --- | --- | --- | --- | --- | --- |
| BenQ HT3550i | 2 x 5W | 3840 x 2160 | 30,000:1 | 2000 | Check Amazon |
| Epson EpiqVision Ultra LS300 | 2 x 10W | 1920 x 1080 | 1,500,000:1 | 3600 | Check Amazon |
| Optoma UHD50X | 1 x 10W | 3840 x 2160 | 500,000:1 | 3400 | Check Amazon |
| Optoma GT5600 | 1 x 16W | 1920 x 1080 | 20,000:1 | 3600 | Check Amazon |
| Optoma UHD38 | 1 x 10W | 3840 x 2160 | 1,000,000:1 | 4000 | Check Amazon |
| BenQ TK850i | 2 x 5W | 3840 × 2160 | 30,000:1 | 3000 | Check Amazon |
Out of all these projectors, Epson EpiqVision Ultra LS300 is the loudest as it has dual speakers each with 10W. Not only that, it has a good contrast ratio and lumen numbers. However, you need to note that this is a Full HD projector. Even Optoma GT5600 is also a Full HD projector though it has a powerful speaker.
If your preference is a 4K projector with a powerful speaker, you can look at the other 4 options. These projectors are True 4K UHD projectors having 8.3M pixels resolution. If you closely compare the specs, Optoma UHD38 wins the race featuring decent 10W power speakers along with a whopping contrast ratio of 1,000,000:1 and brightness of 4000 lumens. This high number of lumens will allow you to take out this projector outdoors to project under some good shade. Next to UHD38, we have Optoma UHD50X with a good contrast ratio of 500,000:1 and decent brightness of 3400 lumens.
The only downside is that all these projectors will cost you a little more than the affordable range. However, their size and quality will allow you to take them with you on vacations. Plus, they can also be a great addition to your home theatre setup.