The Epson Home Cinema 3200 is a 4K PRO-UHD-based 4K HDR home theater projector. Optoma UHAD50X is a Gaming and Cinema Projector. In this article, we'll compare the specs of both Epson 3200 and Optoma UHD50X.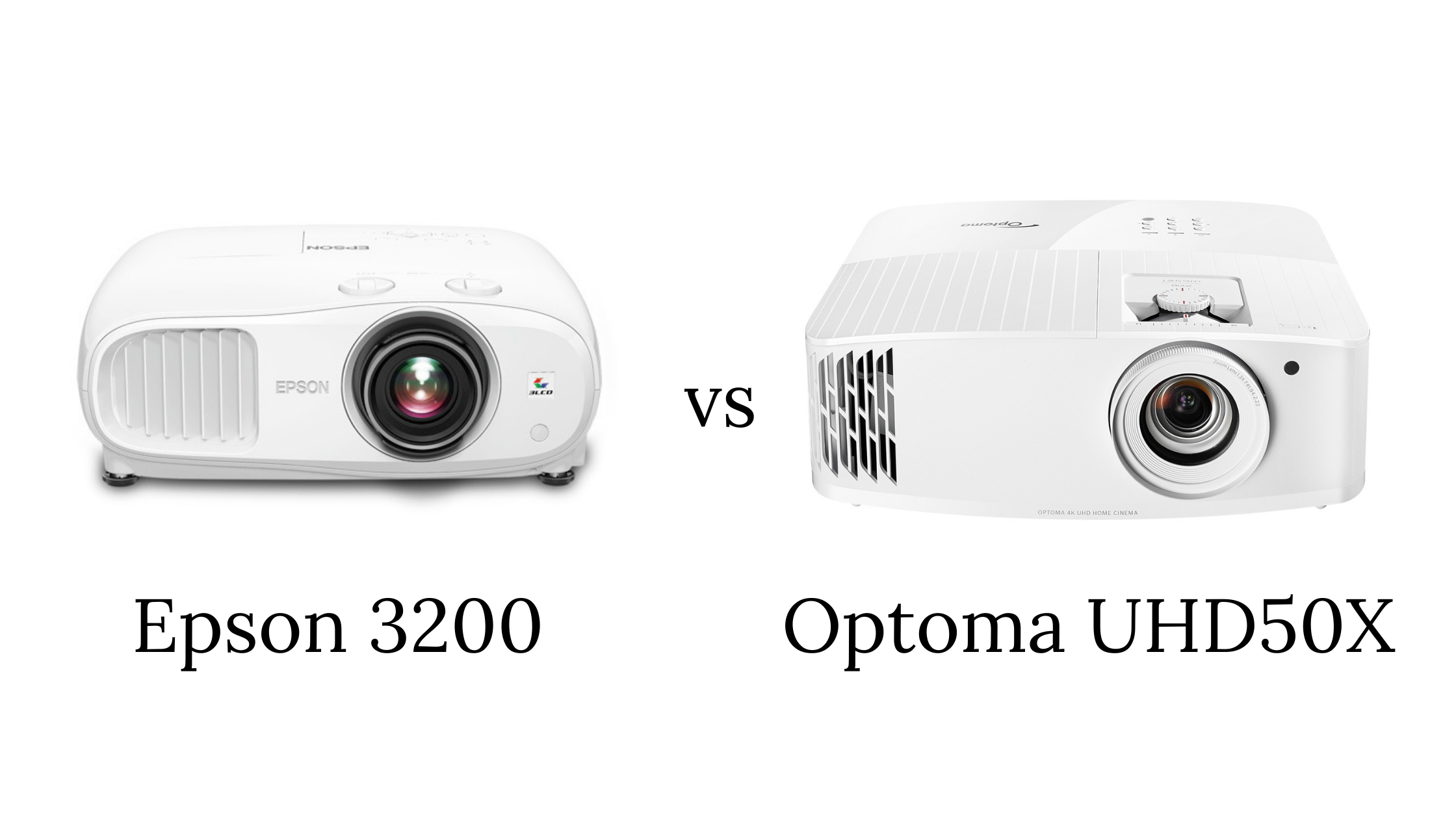 | Feature | Epson 3200 | Optoma UHD50X |
| --- | --- | --- |
| Projection System | 3LCD | DLP |
| Contrast Ratio | Up to 40,000:1 | Up to 500,000:1 |
| Brightness | 2,900 lumens | 3,400 lumens |
| Aspect Ratio | 16:9 | 16:9 |
| Native Resolution | 1920 x 1080 x 2 | 3840 × 2160 |
| Max Resolution | 4096 x 2160 | 3840 × 2160 |
| Performance | 4K UDH @ 60Hz | 1080p @ 240Hz @ 15.7ms |
| Native 4K | No | No |
| 3D | Yes | Yes |
| 3D Resolution | Full HD | Full HD |
| Color Gamut Support | Not Available | REC.709, DCI-P3 |
| HDR Support | HDR10, HLG | HDR10, HLG |
| Keystone Correction – Vertical | ±30 degrees | ±40 degrees |
| Keystone Correction – Horizontal | ±30 degrees | Not supported |
| Lens Shift – Vertical | ±60% | +10% |
| Lens Shift – Horizontal | ±24 | Not supported |
| Throw Ratio Range | 1.32 – 2.15 | 1.21:1 – 1.59:1 |
| Projected Distance | 40″ – 300″ | 47.24″ – 318.9″ |
| Max Lamp Life | 5,000 hours | 15,000 hours |
| HDMI 2.0 | 2 Ports | 1 Port |
| Anamorphic Lens Support | Yes | Yes |
| Price | Check Amazon | Check Amazon |
Contrast Ratio
The contrast ratio of Optoma UHD50X is 500,000:1 whereas for Epson 3200 it is 40,000:1. This tells us that blacks will be better handled by Optoma rather than Epson.
With 40,000:1, Epson might display the blacks as bright grays which many people don't like to see particularly during movies. However, with 500,000:1, Optoma UHD50X becomes the best choice for a home theater.
So, if you are after watching movies and your collection is more of sci-fi, UHD50X would be a better choice. However, watching daily shows and sports is your need then Epson 3200 gets the job done.
Gaming
Playing games on a big screen gives us a more immersive experience of the game. However, input response is one of the main specs you need to watch out for. Optoma UHD50X gives us a 15.7ms input response to play 1080p content at 240 Hz. However, Epson 3200 has 25ms input lag while playing 4K content @ 60 Hz.
If you have a large collection of 1080p games, that you are planning to play on your new projector, it is better to go for Optoma UHD50X, as it can deliver 1080p content @ 240 Hz in just 15.7. However,
Epson 3200 delivers 4K UDH content at 60Hz. Though it is reasonable for watching movies, TV, and sports, etc., not great for gaming as it may skip some crucial frames while you are playing the game.
Display
If watching movies is your main priority and that too in a 4K resolution, having a 4K projector would be great. Fortunately, both UHD50X and Epson 3200 are 4K projectors.
Both these projectors are not native 4K projectors. Both of them use a technique called pixel shifting to achieve the 4K resolution.
Epson 3200 uses 4K Enhancement technology that shifts pixels in 2 ways to achieve double Full HD resolution, also called 4K PRO UHD, producing 4.1 million pixels.
However, Optoma UHD50X's pixel-shifting technique is a little different than the traditional pixel-shifting projectors. They achieve the Consumer Association's 4K UHD specification by shifting the pixels in four ways, using a fast switching XPR technology, which they call True 4K UHD, producing 8.3 million pixels on the screen.
Optoma UHD50X and Epson 3200, both support HDR10 that present the picture with accurate colors and dynamic contrast. You will get to see the details with more clarity.
Anamorphic Content Support
If you have anamorphic or widescreen content and anamorphic lens Optoma UHD50X can play them in 2.35:1 mode. Optoma UHD50X can play this anamorphic content in its LBX mode. This way you can watch the movie at the cinemascope size.
Streaming Content
Both these projectors are compatible with HLG, so you can connect your favorite streaming devices like Netflix and Amazon Prime. Even you can also plug in a Roku and watch YouTube, Netflix, Amazon Prime, and all your streaming subscriptions from a single device.
Lamp Life
In the lowest mode, Epson 3200 (calls it ECO mode) can last for 5000 hours, whereas Optoma UHD50X (calls it Dynamic mode) goes about 15,000 hours. In their medium mode, Epson 3200 lasts for 4000 hours and Optoma UHD50X lasts for 10,000 hours. In its brightest mode, Epson 3200 lasts till 3500 hours, however, UHD50X lasts till 4000 hours.
Ports
If you are looking for more HDMI ports that support HDMI 2.0 with HDCP 2.2 support that can transmit 18 Gbps, then you have 1 port in Epson 3200 and 2 ports in Optoma UHD50X. Epson also has 1 more port that supports HDMI 1.4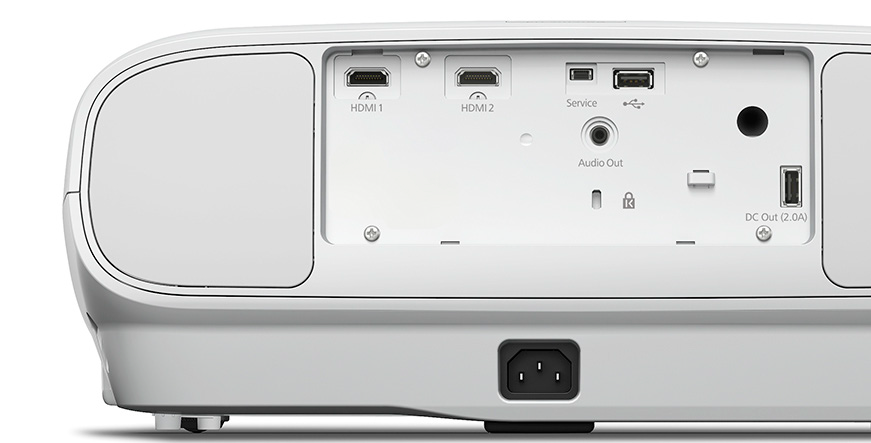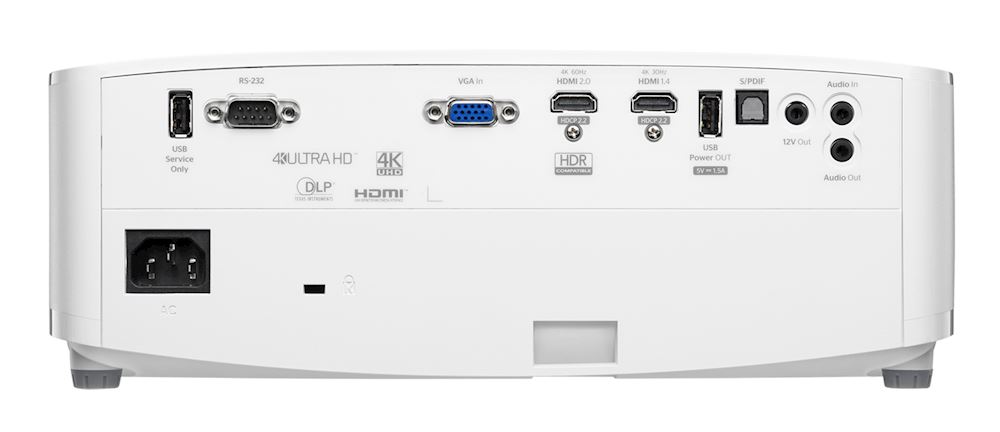 Price
I wouldn't say that these are budget-friendly projectors as for many, these projectors cost a month's paycheck. Comparing to the native 4K projectors these are definitely are among the low-cost entry-level 4K projectors.
Both these projectors are available on Amazon, from time to time, you may get great discounts.
Verdict
A contrast ratio of 500,000:1, low input lag up to 15.7, anamorphic lens support, and a lamp life of 15,000 hours are the features that stand out in Optoma UHD50X making it the buying choice when we compare it with Epson 3200.
However, if you are looking for more HDMI 2.0 ports and are not worried about contrast ratio, input response, you better go for Epson 3200.