So, you have a laptop with DisplayPort and you want to connect it to a Monitor or a Projector which has HDMI as their Input.
You need to be a little extra careful when you are choosing a cable or adapter to connect a DisplayPort to a HDMI. It could be possible that the DisplayPort to HDMI cable may not be compatible with your device.
Firstly, check whether your laptop's DisplayPort is Dual Mode or Single Mode.
Scenario 1: DisplayPort is Single Mode
If your laptop's DisplayPort is a Single Mode, you must use an Active DisplayPort to HDMI Adapter or Converter. However, you need to check if the Monitor's HDMI version and the adapter's supported HDMI versions are matching or not. Similarly, the DisplayPort version of both Monitor and the Adapter should also match. In the absence of these details, check for the correct resolution.
Club3D CAC-1070 Displayport 1.2 to HDMI 2.0 UHD Active Adapter Support 4096X2160 at 60Hz VESA Certified
StarTech.com DisplayPort 1.2 to HDMI Adapter – 4K 30Hz – Active Audio Video Converter
Scenario 2: DisplayPort is Dual Mode
If your laptop DisplayPort is a Dual Mode, a Passive DisplayPort to HDMI Cable should work. However, you must check if the Monitor's HDMI version and the cable supported HDMI version are same or not. Similarly, you must also check if the DisplayPort version of your laptop and the supported DisplayPort version of the cable is same or not.
StarTech.com DisplayPort to HDMI Cable – 6.5ft / 2m – 4K 30Hz – Black – DP to HDMI Adapter Cable
Plugable DisplayPort to HDMI Passive Adapter up to 4K UHD 3840×2160@30Hz
Decision Flow Diagram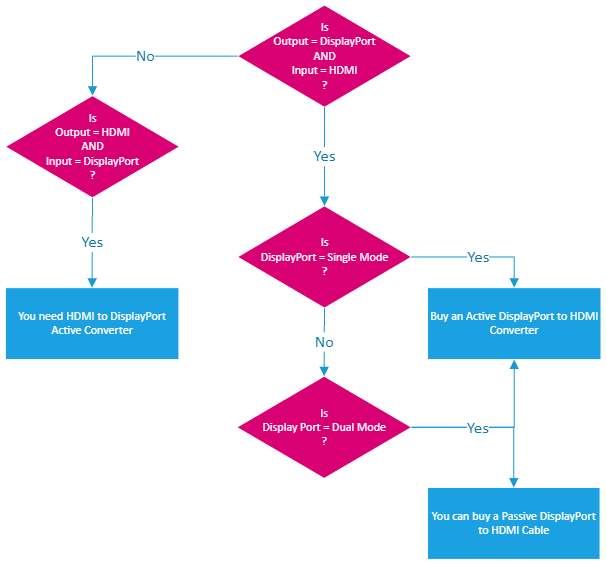 Conclusion
No matter whether your Laptop is Single Mode or Dual Mode, it is preferred to go for an Active Adapter or Converter (mentioned in Scenario 1), this way you will not go wrong, as the Active Adapter can work with both Single Mode and Dual Mode.