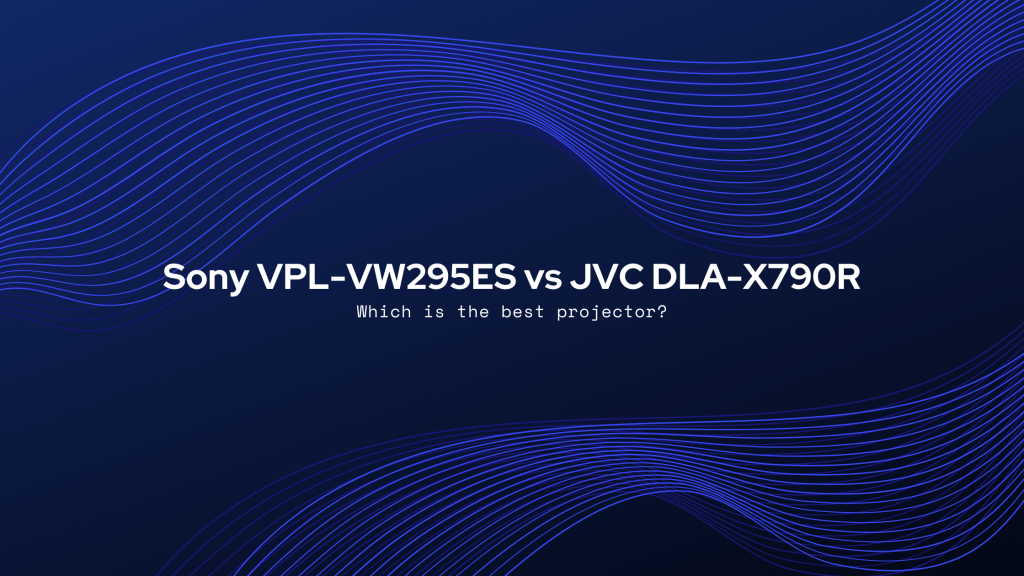 Today we'll compare 2 well known 4K projectors Sony VPL-VW295ES vs JVC DLA-X790R and see which one is the best for an immersive home theater experience. If you are looking for a 4K projector, I'm sure that you will be in a dilemma to decide which one to choose. I'll try my best in helping you out to decide which one you should go for.
JVC DLA-X790R was released in October 2017 but got upgraded in 2018. Sony VPL-VW295ES was released almost a year later in October 2018. Both these projectors are meant for Home Theater setup.
Specs Comparison
| Feature | Sony VPL-VW295ES | JVC DLA-X790R |
| --- | --- | --- |
| Native 4K | Yes | No, e-shift5 |
| Brightness in Lumens | 1,500 | 1,900 |
| Color Brightness in Lumens | 1,500 | N.A. |
| Native Resolution | 4096×2160 | 3840 x 2160 |
| Contrast Ratio | N.A. | 130,000:1 |
| Dynamic Contrast Ratio | N.A. | 1,300,000:1 |
| Aspect Ratio | 17:9 | 16:9 (HD) |
| Projection Type | SXRD | D-ILA |
| Horizontal Lens Shift | +/- 31% | +/- 34% |
| Vertical Lens Shift | +/- 80% | +/- 80% |
| Throw Ratio | 1.36:1 – 2.79:1 | 1.4:1 – 2.8:1 |
| 3D | Yes | Yes |
| Lamp Life | 4,500 hours (Eco) | 6,000 hours (Low) |
| Price | | |
Native 4K
If you are one of those 4K display lovers, I want you to go for Sony. Not because it is the costly one out there, but because it is the only one true native 4K projector available with exceptional picture quality at this price point.
JVC DLA-X790R also projects 4K display, but it is not the native one. It achieves 4K with its e-shift5 technology. With e-shift 5, you'll get the benefits of optimum optimization and sharpening by analyzing every pixel in a native 4K signal. It also greatly improves detail in a very small text.
Also, resolution of Sony VPL-VW295ES is slightly better than JVC DLA-X790R.
Brightness
Sony comes with 15,000 lumens and JVC comes with a 19,000 lumens, so JVC is clear winner here. Though Sony VPL-VW295ES has low lumens, it may not be a concern if you are watching movies in a dark theater room. However, if you are planning to watch sports are playing games JVC DLA-X790R will be in advantage. So it is better to take a high spec lumens if it is available.
Projection Type and Contrast Ratio
Sony VPL-VW295ES features its advanced SXRD panel technology, which delivers 4K (4096 x 2160) resolution images that have more than four times the detail of Full HD. The natural contrasts between fine details and jagged edges make them incredible clear.
JVC's projectors provide superior picture quality thanks to the precise technology behind the D-ILA technology, which features a 0.3 pixel gap and high intensity for bright, high contrast picture and superior detail.
In contrast ratio segment, Sony maintains secrecy and doesn't disclose the specs. However, contrast ratio of JVC DLA-X790R is a whopping 130,000:1. JVC always do better with their contrast ratio, and it is always pleasure watching the sci-fi movies with those perfect blacks.
HDMI 18 Gbps
Sony and JVC both have HDMI inputs, which are updated to the latest 18gbps full speed HDMI 2.2. This allows the user to connect two HDCP2.2 copy protected devices at the same time, with frame rates of up to 60 frames per second.
With 18gbps speed the motion graphics in both these projectors is worth watch.
Reasons to go with Sony VPL-VW295ES
Sony VPL-VW295ES is a Native 4K projector with display resolution of 4096×2160
Larger aspect ratio of 17:9
IMAX Enhanced content works with the Sony 4K projector providing you with the bigger, more captivating IMAX visualizations you love.
You have nine calibrated picture modes to choose from, including two film modes, theater digital, reference, TV, photo, dark cinema, bright cinema and bright TV. With HSV color-tuning software you have even more control.
The HDMI 18 Gbps data rate enables smoother image gradations.
The Sony's HDR10 and HLG (Hybrid Log-Gamma) home cinema projectors enable pictures to be as accurate in color as the creators had intended.
With 18gbps HDMI and input lag reduction mode settings, it is ideal for gaming
Reasons to go with JVC DLA-X790R
Cheaper than Sony VPL-VW295ES
Brighter images than Sony
DLA-X790 supports both BT.709 and DCI color gamuts with BT.2020 color mapping, producing highly vivid images with high contrast and high saturation.
Provides images of superior quality with 130,000:1 native contrast ratio.
Slightly better specs for throw ratio and lens shift
With 18gbps HDMI and improved low latency mode, it is ideal for gaming