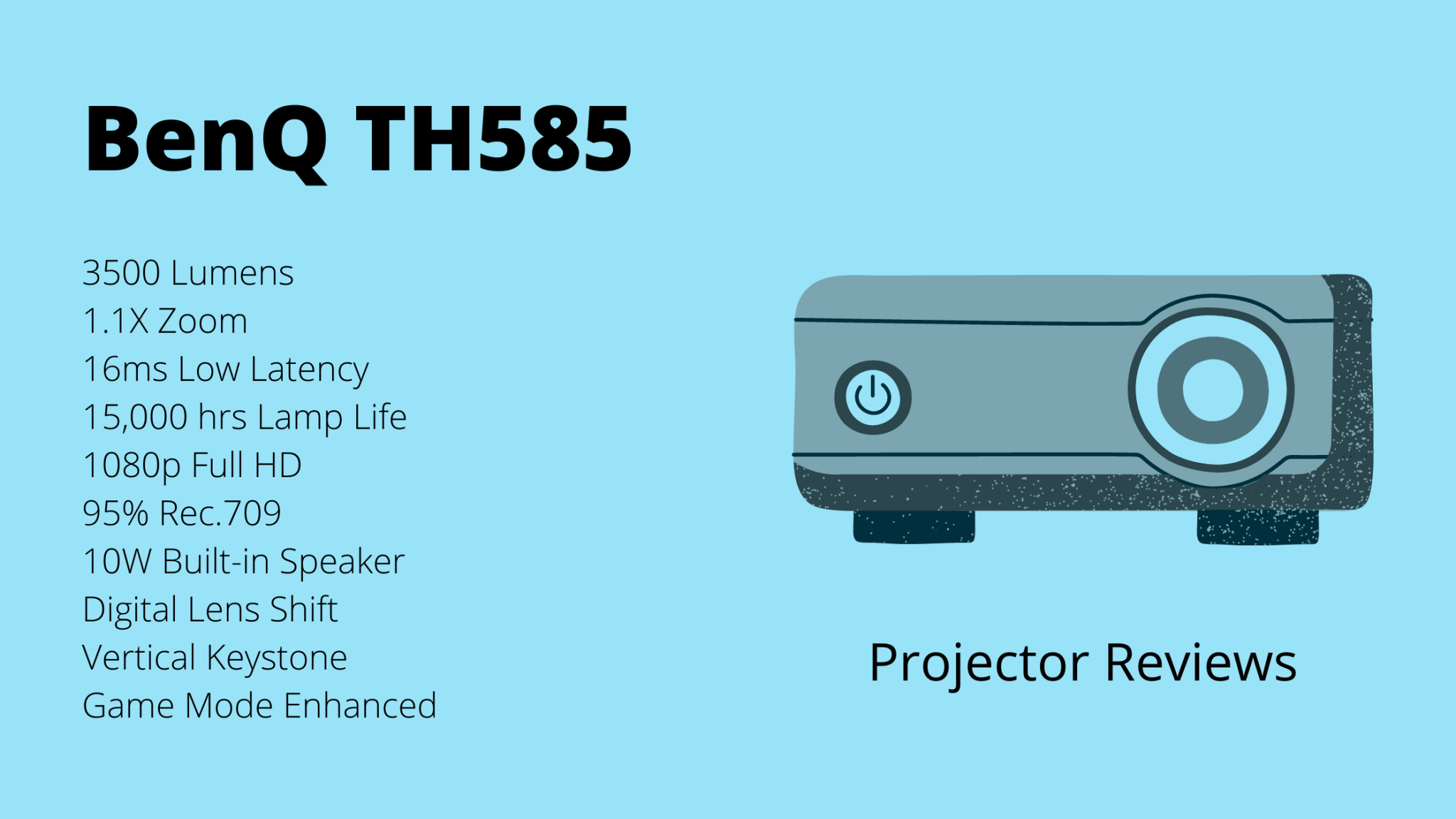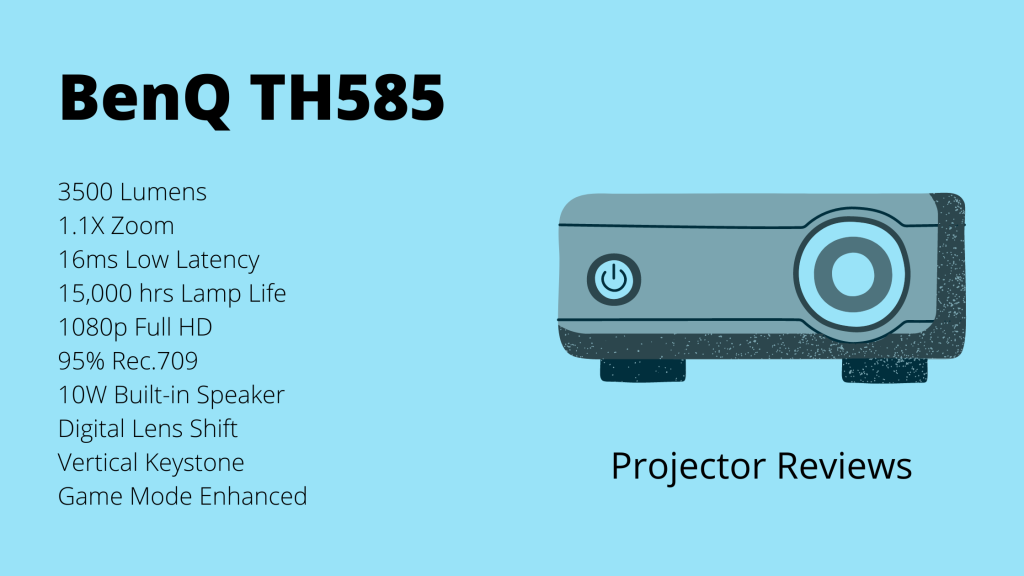 BenQ launched TH585 home theatre projector in Jan 2020. It provides fun with unbelievable quality of picture. Amazing visuals at 3500 lumens of high brightness in game mode have intense action even at daytime.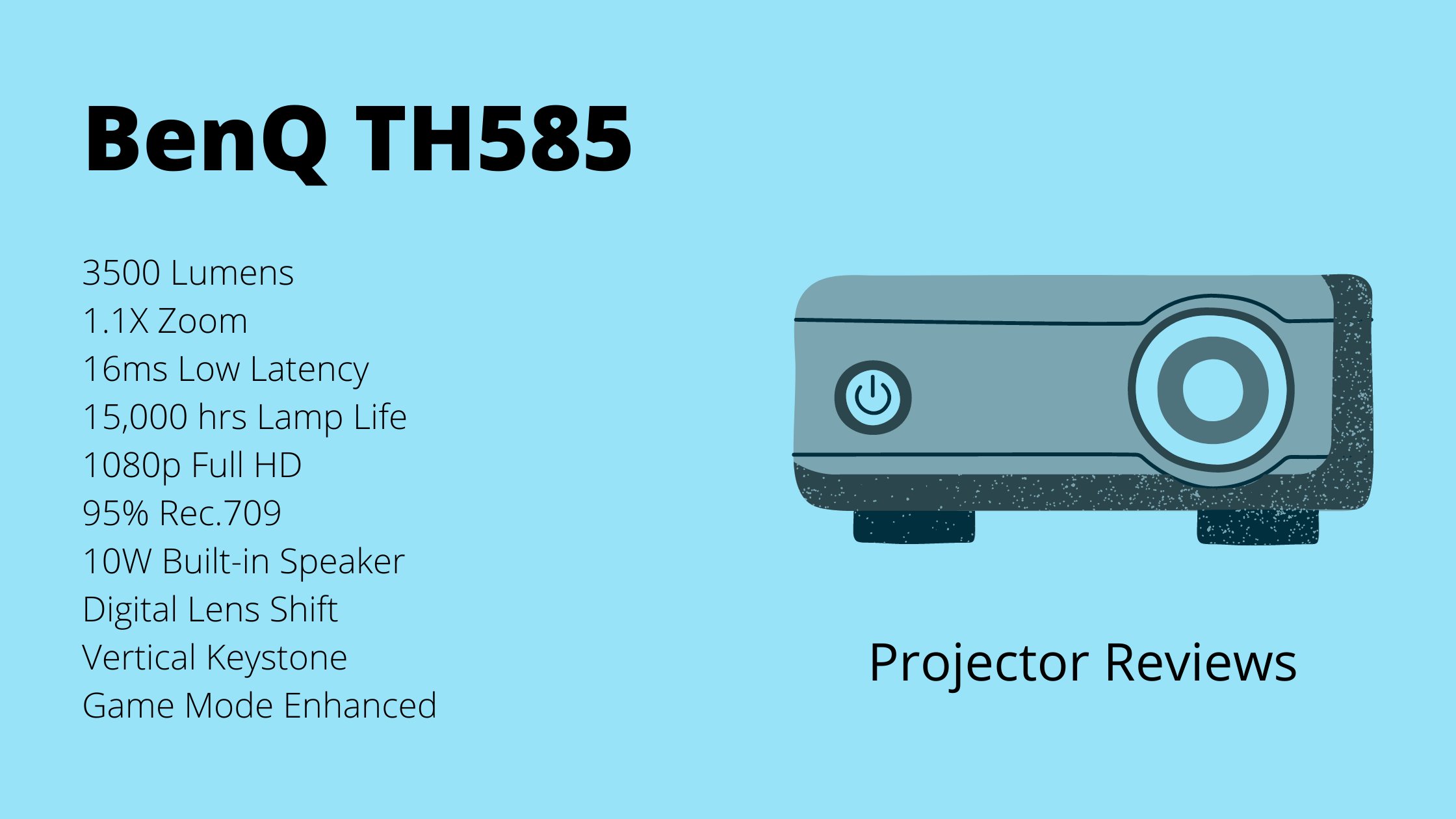 A Full HD image quality, built-in speaker of 10-watt with clear sound, 95% Rec.709 color projector is loaded with best quality image specs.
Features
1.1xZoom
TH585 provides range of throw distances, so that you can zoom according to the space available in your room.
Digital Lens Shift
A Full HD image quality, built-in speaker of 10-watt with clear sound, 95% Rec.709 color projector is loaded with best quality image specs.
Digital Lens Shift allows TH585 to move the projection up and down, and side to side. You can also correct the distortion of the projection.
With this feature you can literally fit the projection dynamically into any room with whatever space is available to you.
Auto Vertical Keystone
You can project the picture at an angle of ± 30° with the help of auto vertical keystone feature of TH585. This feature makes your life easy by projecting at various different vertical angles automatically without involving your manual intervention.
Supports Multiple Sources of Content
TH585 supports multiple entertainment sources as input. You can plug-in streaming devices like Amazon Fire TV Stick. Play games by connecting your favorite Game console or hand held Game console. You can also watch movies by connecting your Blue-ray player.
Low Input Lag
TH585 has a very low input lag of 16 ms. This will drastically improve your gaming experience as the response time will be very fast.
Lamp Save Mode
Lamp Save Mode feature in TH585 inteligently extends the life of the lamp upto 15,000 hours.
Frequently asked questions on BenQ TH585?
Can I watch 3D content in TH585?
TH585 is a DLP projector and it supports an affordable 3D content projection. You should make sure that you are standing at a distance of 3 times of the height of the projection. Obviously, you need to wear BenQ 3D glasses and stream 3D content from your media source device.
What all Aspect Ratios TH585 supports?
TH585 supports various aspect ratios that you can set according to your input signal source. The auto mode scales the image evenly so that it fits the native resolution of the projector. The "Real" mode project the image in its original resolution. Apart from these 2 modes, TH585 supports 4:3, 16:9 and 16:10 aspect ratios.
How to extend the lamp life of TH585?
TH585 has 3 "Light Modes", those are, Economic, SmartEco and LampSave that help in extending the lamp life apart from the "Normal" mode.
Key Specification
Projection System
DLP
Resolution
1080p (1920×1080)
Resolution Support
VGA(640 x 480) to WUXGA(1920 x 1200)
Brightness (ANSI lumens)
3500lm
Contrast Ratio (FOFO)
10,000:1
Display Color
30 Bits (1.07 billion colors)
Native Aspect Ratio
16:09
Light Source
Lamp
Light Source Life
Normal 4,000 hours
Eco 10,000 hours
SmartEco 8,000 hours
LampSave 15,000 hours
Throw Ratio
1.50 ~ 1.65 (100″ @ 3.32 m)
Zoom Ratio
1.1x
Keystone Adjustment
1D Vertical ± 30 degrees
Projection Offset
105%
Horizontal Frequency
15K~102KHz
Vertical Scan Rate
23~120Hz
Picture Mode
Bright / Living Room / Cinema / Sports / Game / (3D)* / User 1 / User 2
Color Wheel Segment
6 segment (RGBWYC)
Color Wheel Speed
2X(2D/3D, 50Hz/60Hz) , 3D max 144Hz
Rec.709 Coverage
95%
Speaker
10W x 1
PC (D-Sub)
X1
Monitor Out (D-Sub)
X1
HDMI
X1 (HDMI-1 / MHL)
X1 (HDMI-2)
USB Type A
X1 (1.5A power)
Audio in (3.5mm Mini Jack)
X1
Audio out (3.5mm Mini Jack)
X1
RS232 (DB-9pin)
X1
IR Receiver
X2 (Front / Top)
Input Lag (Under Fast Mode)
1 frame (16.67ms) 60Hz***
HDTV Compatibility
720p 50/60Hz, 1080i 50/60Hz, 1080p 24/25/30/50/60Hz
Power Supply
VAC 100 ~ 240 (50/60Hz)
Typical Power Consumption
Max 340W, Normal 297W, Eco 206W
Standby Power Consumption
0.5W Max. at 100 ~ 240VAC
Acoustic Noise (Typ./Eco.)
35/29 dBA
Operating Temperature
0~40℃ (Celcius)
Dimensions (W x H x D) (mm/inch)
312 x 110 x 225 mm
Net Weight (Kg/ lbs)
2.79 kg / 6.15 lbs
Remote Control w/ Battery
X1 RCV013 (5J.JGY06.001)
Power Cord (by region)
X1
Quick Start Guide
Yes (21L)
Warranty Card (by region)
Yes
Battery
X2 (AAA)
Affiliate Discloser: As an Amazon Associate, we may earn commissions for qualifying purchases.