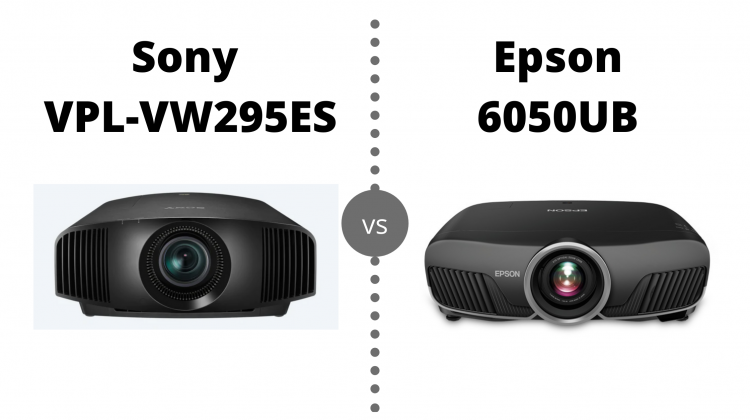 Sony VPL-VW295ES and Epson Pro Cinema 6050UB are the 2 much talked about projectors these days, especially within the circles of those home theater enthusiasts. Both the projectors are made by their manufacturers for the best in class cinema experience. However, in my opinion Sony VPL-VW295ES would be a better choice, especially for those who are a kind of videophile, because it produces the best in class picture quality with native resolution of 4K resolution and no other brand produce a native 4K at this price range.
Key Differences
Feature
Sony VPL-VW295ES
Epson Pro Cinema 6050UB
Native 4K
Yes 🏆
No (4K Enhancement Technology)
Brightness
1,500 ANSI Lumens
2,600 ANSI Lumens 🏆
Color Brightness
1,500 Lumens
2,600 Lumens 🏆
Native Resolution
4096×2160 🏆
1920×1080
Aspect Ratio
17:9 🏆
16:9
Projection Type
SXRD
3LCD
Lens Shift
Horizontal +/-31%
Vertical +/-80%
Horizontal +/-47.10%
Vertical +/-96.30% 🏆
Throw Ratio
1.36:1 – 2.79:1
1.35:1 – 2.84:1
Price
Check Amazon
Check Amazon
One of the major difference between Sony VPL-VW295ES and Epson Pro Cinema 6050UB is the 4K projection. VW295ES natively supports 4K resolution whereas 6050UB is based on 4K enhancement technology that shifts each pixel diagonally to achieve double Full HD. So, even with the pixel shifting technique 6050UB cannot produce full 4K resolution, however, VW295ES can produce natively with no enhancement techniques. So, here Sony VPL-VW295ES is the clear winner.
Sony VPL-VW295ES uses its SXRD technology, which is based on LCoS for projecting the content, whereas Epson Pro Cinema 6050UB uses its 3LCD technology for projection. Basically, both technologies split the light into 3 beams, red, green and blue before combining them to form a colored image. Since, VPL-VW295ES uses LCoS, its light path is sealed and dust cannot land into the system, whereas Epson's 6050UB which is based on 3LCD technology the light path is not sealed, so there is a chance of dust landing on their panels causing dust blobs. This could be the reason Epson provides 3 year warranty where it does cover cleaning the dust blobs.
Sony VPL-VW295ES offers only 1500 lumens, however Epson Pro Cinema 6050UB offers 2600 lumens, a 1100 extra lumens for Epson model. However, if you need the projector for your home theater which you've setup in a dark room, you wouldn't require high lumens, under 1000 would also be fine. So that way VW295ES will not loose anything here. But the problem comes when you want to play a 4K HDR content, where you would require more lumens, which is one of the minus points of VW295ES. However, Epson Pro Cinema 6050UB can offer up to 2600 lumens, which can will be handy when you play 4K HDR content, though it can only play a half of what a 4K resolution is. So, if you are planning for your darkroom, go for Sony. If you are planning for your living room that has ambient light, go for Epson.
Apart from these differences, both the projectors are more or less similar in specs. Both have 2 HDMI ports with 18Gbps speed, which help in transferring high quality 4K content and superb gaming experience with low input lag. Both can play 3D movies, support streaming content with the help of HLG.
Both are flexible enough to install with their 2.1x zoom ratio and wide lens shift range they offer. They can produce wider color gamut, reaching up to 100% of P3/BT.2020 color range to achieve color accuracy.
Verdict
You'll not go wrong with either, but if you want true 4K experience, look no further and pick Sony VPL-VW295ES provided you have or can create considerable dark ambience. Pick Epson Pro Cinema 6050UB, if you are planning to watch more of HDR content.